6903: 1930s-50s Japanese Meisen Silk Fabric Piece 47in.Arai Hari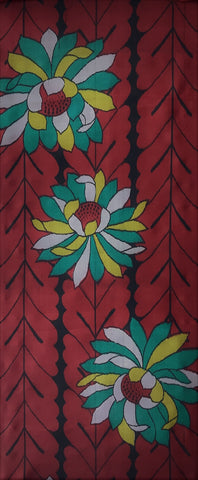 Vintage Japanese Textiles:
1930s-50s  Meisen Silk Fabric Piece
Arai-Hari

Width: 13.75 inches / 34.92 cm
Length: 47 inches / 119.38 cm

Catalog# 6903:
US$15.00 per piece
Fabric History/Pedigree:
Pieces received from traditional Japanese kimono cleaner/reconstructor called 
Arai-Hari
 -- see an excellent explanation of traditional 
Arai Hari
 by textile expert 
John Marshall,by click-pushing HERE
.
Fabric Description:
 Lightweight meisen silk, slightly translucent,  is estimated from 1930s-1950s; Meisen is defined literally as 'common silk stuff'; and has grown in popularity in the last few years; Meisen from that period are usually larger bold patterns and bright colors; fabric slightly stiff and minimal sheen more noticeable in lighter colors;
 the background is black but little can be seen as the motifs fill the fabric; please see close-ups.

Fabric Motif:
Three equal-sized columns of leaves as background with large 9 inch/ 22.86 cm diameter flowers as foreground; 
colors used in the figures as follow: burgundy, dark aqua-blue, silver-gray, and light mustard; 
 As is typical in Meisen, note the impressionistic fuzzy edges of shapes
; patterns same on both sides

Note on colors:
 As all devices have different colorations and contrast, please use our text descriptions of colors to complement your sense of the color of the fabric.
---
More from this collection
6903: 1930s-50s Japanese Meisen Silk Fabric Piece 47in.Arai Hari