6898:1980s Japanese Vintage Kimono Komon Silk Fabric, Deadstock, by Yard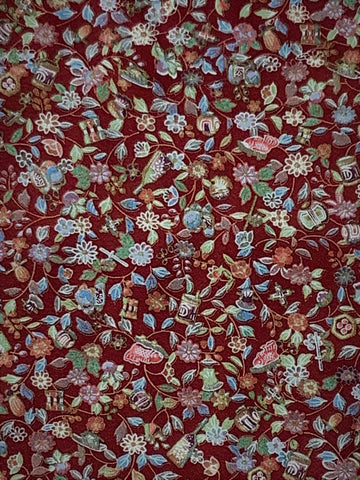 1980s Japanese Vintage Kimono Komon Silk Fabric, Deadstock, by Yard
Catalog# 6898:
Width: 14.5 inches /36.83 cm
Length: 1 yard / 91.44 cm
List Price: US$15.00 per yard plus shipping
Sale Price: US$7.50 per piece plus shipping
Fabric History/Pedigree:
Pieces derived from deadstock 1980's kimono silk roll; This sort of roll is used to make woman's daily wear kimonos, done with 
komon
designs (multiple very small figures/designs throughout).
Fabric Description:
This is light
weight good quality Japanese silk
; The background is burgundy-red with very small-scale designs filling the fabric(Komon); Most of the figures are floral, but if you look carefully there are many different traditional motifs scattered through the whole fabric (Including: hagoita (badminton paddles), fans, tsuzumi drums, Temari balls, Uchide-no-Kozuchi (magic mallet), scrolls and others);
Designs are on one side only; Various colors used for designs are within lighter pastel hue types: blues, grays, colonial blue, white, greens, and tangerine. 
Colors:
Please use our text descriptions to complement your sense of the colors, as color and contrast differ on different devices.
Orders of more than 1 yard are sent in uncut lengths.
---
More from this collection
6898:1980s Japanese Vintage Kimono Komon Silk Fabric, Deadstock, by Yard