6871: 1960s Japanese Silk Kimono Fabric,sCamellias, 57in.(Arai Hari)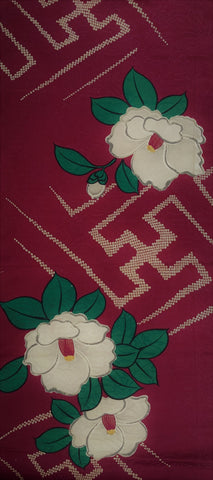 Vintage Japanese Textiles:
1960s Arai Hari Used
Silk Fabric Piece

Width: 14.25 inches / 36.2 cm
Length: 57 inches / 144.78 cm

Catalog# 6871:
US$15.00 per piece
Fabric History/Pedigree:
1960s silk fabric pieces received from traditional Japanese kimono cleaner / reconstructor called Arai-Hari -- see an excellent explanation of traditional Arai Hari by textile expert John Marshall,by click-pushing HERE.


Fabric Type:
Lightweight fine 
silk, dark plum-burgundy color, very slightly translucent; slight sheen
; print on one side but visible on the reverse; fabric background is what we believe to be of a field of iris flowers; the foreground motif is of large stylized renderings of camellia flowers (white blossoms with green leaves and yellow accent in the center of flowers; The geometric maze-like patterns seen are based on a common maze-like background design seen in older traditional Japanese fabrics, only the scale is quite large; the lines consist of shibori-like white dots and include the ancient symbol for Shinto shrines.
Colors:
 Please use our text color descriptions to complement your sense of the fabric due to differences in contrast and color on different devices.
 
NOTE: The last picture is intentionally over-exposed (brighter) to better reveal the subtle iris fields background designs, so does not well represent the color of this fabric.

Condition:
Excellent.

Recommended for use in making scarves or other accessories.
---
More from this collection
6871: 1960s Japanese Silk Kimono Fabric,sCamellias, 57in.(Arai Hari)