6831: 1980's Japanese Kimono Silk Fabric, Piece 38 in.(AraiHari)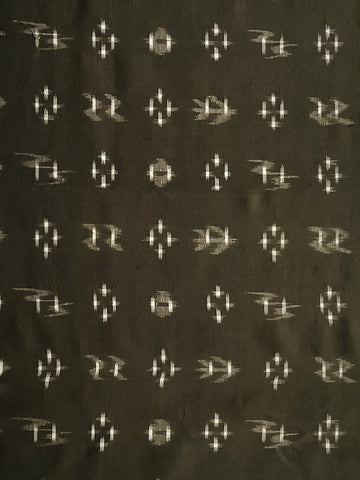 Vintage Japanese Textiles:
1980's  Silk Fabric Piece
Mock-Kasuri Motifs
(Swallows, Geometrics)

Arai-Hari

Width: 14.75 inches / 37.47 cm
Length: 38 inches / 96.52 cm

Catalog# 6831:
US$15.00 per piece
Fabric History/Pedigree:
Pieces received from traditional Japanese kimono cleaner/reconstructor called 
Arai-Hari
 -- see an excellent explanation of traditional 
Arai Hari
 by textile expert 
John Marshall,by click-pushing HERE
.
Fabric Description:
Light-
weight silk is minimally translucent, interwoven to evoke a kasuri (ikat) pattern of rows of geometric figures, as well as pairs of swallows in flight; Rows are symmetrically aligned; This is a 1980's fabric piece with a soft-charcoal-black background; designs are off-white; same on both sides.
---
More from this collection
6831: 1980's Japanese Kimono Silk Fabric, Piece 38 in.(AraiHari)