6827: 1980s Japanese Wool Mock-Kasuri Fabric, 62in. Piece (Arai-Hari)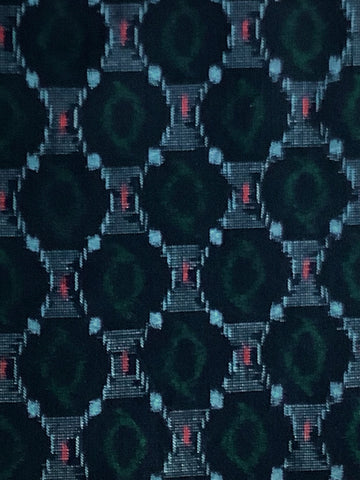 Catalog# 6827
1980s Japanese  Mock-Kasuri Interwoven Wool Fabric
(Used and Cleaned by Arai-Hari)

Width: 14.5 inches / 36.83 cm
Length: 62 inches / 157.48 cm
US$15.00 per piece
Item Details and Description
Fabric History/Pedigree:
 Pieces received from traditional Japanese kimono cleaner /reconstructor called 
Arai-Hari
 -- see an excellent explanation of traditional 
Arai Hari
 by textile expert 
John Marshall, by click-pushing HERE
.
Fabric Type:
 Lightweight wool, very slightly translucent; Japanese wool is a smoother and tighter weave than many Western worsted types of wool. (
Interesting discussion of the term
worsted wool is here
.
)
Motifs: This is an interesting interwoven motif same on both sides, made to mimic kasuri (ikat); Symmetrical grid is composed of vertical (lengthwise) sine wave lines in even rows of rounded hexagonal shapes(ovals), each punctuated with small ragged dark green diamonds (see especially our last close-up); Background is black with the lines and squares in a very pale light blue; The shapes are rendered with very tiny pixels; Also, the faint dark green oval-rings can only be seen on very close-up inspection;  There are also small red accents in interstices throughout; symmetrical grid effect; same on both sides.

About Colors:  Please consider our text color descriptions to complement your sense of the fabric, as colors and contrast differ on different devices.
Condition: Excellent.

---
More from this collection
6827: 1980s Japanese Wool Mock-Kasuri Fabric, 62in. Piece (Arai-Hari)