6797: 1960s Japanese Silk Piece, Deadstock Kimono Fabric, Yard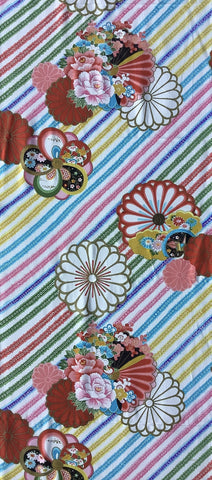 1960s Japanese Silk Piece 
Deadstock Vintage Kimono Fabric
Catalog# 6797
Width: 14.25 inches / 36.2 cm
Length: 1 Yard / 91.44 cm

US$10.00 / yard
Item Details and Description
Fabric History/Pedigree: 1960s fabric derived from deadstock roll of kimono silk; (Deadstock means old inventory which is like new but has been in storage, never been used).
Fabric Description: Lightweight, slightly translucent Japanese vintage silk kimono fabric, print on one side, probably for an older girls kimono; background color is white with diagonal bands in bright colors(aqua-blue, bright purple, mustard-yellow, green, and red), these bands have shibori-type single circles within; Foreground of designs is distinctive (we rarely see this combination): flower clusters, figures of uchiwa-fans gathered to look like a flower, and large chrysanthemums; Other colors used in designs: moss-green, mauve, pink, purple, mustard, copper, salmon, & muted gold.
Condition: Excellent.
If buying more than one yard, fabric is sent in uncut lengths.
---
More from this collection
6797: 1960s Japanese Silk Piece, Deadstock Kimono Fabric, Yard