6724: 1960s Japanese Cotton Yukata Fabric, Stripes,44in. Piece(Arai-Hari)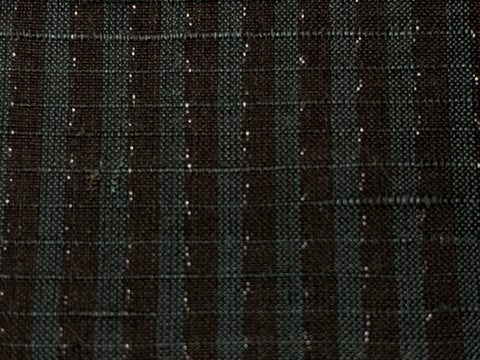 Vintage Japanese Textiles:
1960s Japanese Cotton Fabric
(Arai-Hari)

Width: 14 inches / 35.56 cm
Length: 44 inches / 119.76 cm

Catalog# 6724:
US$10.00 per piece

Fabric History/Pedigree: 


 Pieces received from traditional Japanese kimono cleaner/reconstructor called Arai-Hari -- see an excellent explanation of traditional Arai Hari by textile expert John Marshall,by click-pushing HERE.

Fabric Type:
  Lightweight cotton for making summer kimono (yukata), slightly translucent, black background with dark green vertical stripes (1/8 inch / 3.17mm) alternating; Also, note the tiny white specks (only clear upon close-up inspection) running within the black stripes; designs same on both sides (See close-ups).
---
More from this collection
6724: 1960s Japanese Cotton Yukata Fabric, Stripes,44in. Piece(Arai-Hari)