6386: 1950s Japanese Silk Kimono Fabric, 54 in.(Arai Hari)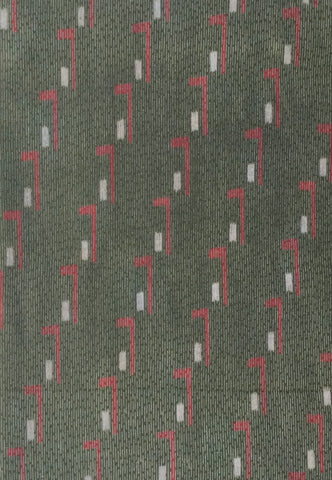 When purchasing this at the sale price
we require that your total order be minimum US$15.00


Vintage Japanese Textiles:
1950's Arai Hari Used
Silk Kimono Fabric Piece 

Width: 13.5 inches / 34.29 cm
Length: 56 inches /  162.56 cm

Catalog# 6386
List Price: US$18.00 per piece
Fabric History/Pedigree:
1950s lightweight silk fabric piece received from traditional Japanese kimono cleaner/reconstructor called Arai-Hari -- see an excellent explanation of traditional Arai Hari by textile expert John Marshall, by click-pushing HERE.


Fabric Type:
Lightweight
 delicate silk, translucent, moss-green color background tiny broken dash line pinstripes running lengthwise; also, symmetrical, small gray rectangle shapes alternated with rusty-red long bars, equally spaced throughout.; colors of pin-stripes are a darker shade gray than the rectangles. 

NOTE: Colors differ on different devices so please use our text descriptions as reference.
Recommended for making scarf or accessories.
---
More from this collection
6386: 1950s Japanese Silk Kimono Fabric, 54 in.(Arai Hari)