110-OBIJIME10: SOLD OUTLot of 10 Used Japanese Vintage Obijime for Kitsuke, DIY, Crafts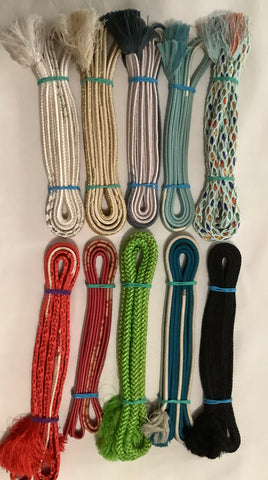 Catalog #: 110-OBIJIME-10
Kimono Accessories: Kimono  Obijime Ties, Art & Craft Supplies

US$35.00 for Lot of Ten(10) Used Obijime
Plus Shipping

Description:

These are used vintage obijime ties made in Japan from the 1970s to 2000s, sometimes older. They are used and in fairly good condition, with the exception of some imperfections such as minor stains and fading; Good for practicing how to tie obijime during kitsuke; Fashionistas, Designers, Artists, and Crafters can use these for hair or other accessorizing, making cross-body bags, belts, or for other textile art or fashion projects.
Each lot is different. We will make a variety of assorted colors, styles, and materials.
To learn more about obijime please visit a nice Japanese (English Version)Wiki page here. 
PICTURES HERE ARE SAMPLES: EACH ORDER IS UNIQUE
---
More from this collection
110-OBIJIME10: SOLD OUTLot of 10 Used Japanese Vintage Obijime for Kitsuke, DIY, Crafts