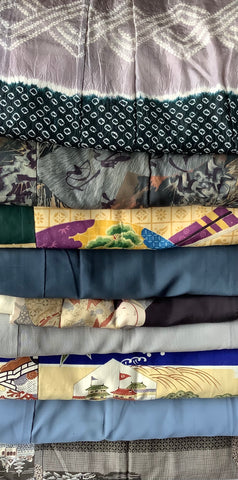 Lot: 10Lbs Vintage Japanese Men's Under-Kimonos(Nagajuban)
Count: 11 Garments

Catalog No.: 110-MNAG

10 Lbs (4.54Kg) @ US$125.00 
Plus Actual Shipping Cost

PRODUCT DESCRIPTIONS:


These 10pounds packages are comprised of  11 vintage men's under-kimonos which are called nagajuban. Many are made of silk with occasional synthetic (mock-silk) and sometimes cotton included if it's in nice condition.

COUNT: We're selling by the pound, but this package has 11 garments in 10 pounds.

Sold as CUTTERS, but some of our customers wear or resell them as casual vintage wearables; These are whole garments and some can be worn informally and as costumes; these are also used by designers and artists in various ways. These are vintage (old, recycled) so they may have some wrinkling, slight stains & imperfections, and sometimes a musty odor.

Men's nagajuban traditionally are mostly ornate with many traditional designs and motifs, including various combinations of the following: cranes, hawks, tigers, birds, country home and nature scenes, shibori and other traditional art designs & patterns, Palace Dolls, samurai themes, and various crests, etc. A few of the nagajubans are solid in the front and sleeves but with large motifs on the back. We try to make each package a varied, attractive assortment.

NOTE: PICTURES SHOWN ARE SAMPLES OF RECENT 10 Lbs ALL MEN'S NAGAJUBAN ORDER, The first image is of a pile of the full 10 pounds nagajuban, other images are close-ups of the 10 Lbs; These pictures show the quality and types of nagajuban in each package. Each package is unique.
SHIPPING TIME: 1 Business Day.
Questions?: Please send us a message HERE. 

 *SHIPPING DISCOUNT OPTIONS:
We have added excellent discounted shipping rates with Fedex Ground and United Parcel Service(UPS) that show substantial savings on shipping to customers not close to us in the Northeast USA. All shipping rates are listed during the check-out process before finalizing the order. The discounts for international ground rates to Canada and Mexico by FedEx and UPS are also quite good.
---
More from this collection
110-MNAG: 10 Lbs Vintage Japanese Men's Under-Kimono Nagajubans