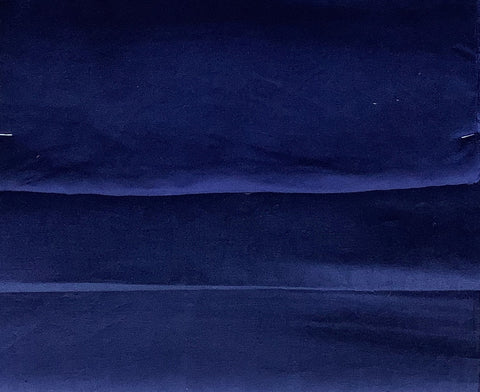 Vintage Japanese Textiles:
1950s-1960s Japanese  Upcycled (Arai-Hari)
Kimono Liner Cotton Fabric
Lot of Three(3) Pounds (net weight)
Catalog # 110-LNR-NAVY3

US$45.00 for one (1) 3 pounds lot
Plus Shipping


Fabric History/Pedigree: 1950s-1960s lot that we found in a large batch of liners and other fabrics in bolts, rolls & pieces, received from a  traditional Japanese kimono cleaner/reconstructor called Arai-Hari -- see an excellent explanation of traditional Arai Hari by textile expert John Marshall, by click-pushing HERE. 

Fabric Description: Three pounds of solid navy-blue cotton liners, high-quality used Japanese cotton, cleaned, and then put into bolts by Arai-Hari in Japan; this lot is in 3 bolts, net weight 3 pounds; fabric widths are from 13 inches to 14 inches (33.02 cm to 35.56 cm); some bolts are bound with basting stitches, and with Arai-Hari's original laundry tag (usually customer's name) attached sometimes. 

OUR PICTURES HERE ARE A SAMPLE, each lot is unique, but of the same color/condition/description.
Notes: Recommended for use in replacing kimono liners, sashiko embroidery, crafts, and other sewing projects.
---
More from this collection
110-LNR-NAVY3: 3 Lbs Vintage Kimono Cotton Liners Fabric,Arai-Hari Navy Blue