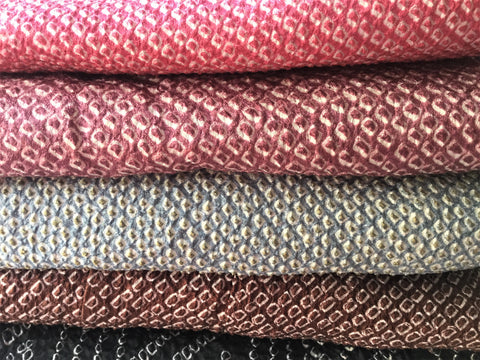 Lot of Five(5) Vintage 1950s-1970s
Japanese Shibori Tie-Dyed Silk Kimono Coats

Catalog#:  110-SC-5


US$105.00 Plus Shipping
LOT OF FIVE(5) VINTAGE SHIBORI KIMONO COATS BUNDLE CONTENT:
 We are selling this bundle of five (5) vintage 1950s-1970s silk tie-dyed (shibori) kimono coats as a lot of whole-garment cutters,

 

but most are wearable.


To learn more about the Japanese tie-dyeing process called Shibori visit HERE.


SELECTIONS: Five (5) whole garments include 5 haori coats (open cardigan style) , sometimes including 1 michiyuki (double-breasted) or jinbei (overlapping front with tie-strings, a work coat) as the fifth coat of the lot. 5 different colors and designs; Color selections are different for every package:  most of them have some sort of design/pattern;  some are hand-tie-dyed, and others, are machine-process shibori.


Our picture here is a sample, representative of the color assortment.

---
More from this collection
110-SC5: 5 Silk Shibori Haori, Japanese Vintage. Lot