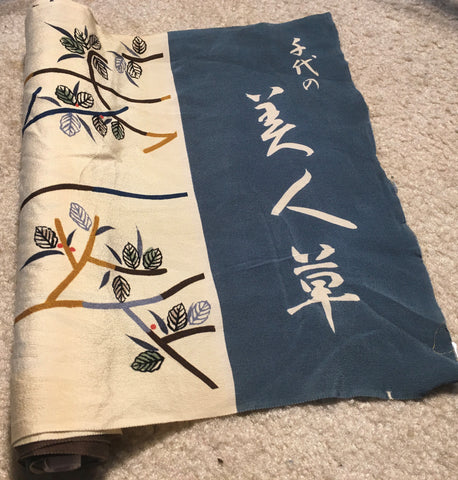 SOLD
Rare 1940's Japanese Vintage Deadstock
Salesperson's Chirimen Silk Kimono Fabric Sampler Roll 
Catalog #: 6481 

US$65.00 
6+ Yds / 5.49 m

10 Different Patterns
(Each pattern: 13.5" wide X average length 22")
 Description:

One roll of excellent quality chirimen silk fabric from 1940's Japan, 10 different patterns of kimono on salesperson's sampler roll. We're not certain about the reading of the kanji writing (Chiyo-no Bijinsou) translates literally as: "Chiyo's Beautiful Grass", but as a pre-war kanji perhaps there is another reading. It might be a designer mark (a person named Chiyo?).
The panel patterns are 13.5" X average 22" long (34.56 cm X average 55.88 cm) and designs on one side only -- but mostly visible the same on the reverse (inside); colors of the 10 patterns are dark-green, browns, black, tan, iron-red, salmon. Our closeups show 2 patterns at a time, and the maker's mark at the start of the roll.
 Designs are traditional with flora themes(see close-ups).
Surely of interest to our Japanophile designers and textile artists out there.
---
More from this collection
6481: SOLD 1940's Japanese Kimono Chirimen Silk Roll, Salesperson's Sampler