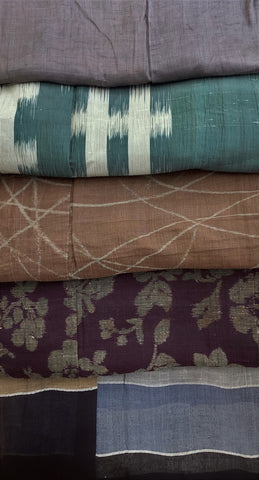 Ten(10) Pounds Pre-1960s Japanese Asa (Hemp)Women's Kimonos

10 Women's Summer Asa Kimono Yukata

Catalog#:  110-ASA-10

US$125.00 Plus Shipping

LOT: 10lbs, 10 Garments VINTAGE (Pre-1960s) HEMP(ASA) KIMONO BUNDLE:
 We are selling this bundle of asa summer kimonos as a lot of whole-garment cutters, but many customers use some for casual vintage wear.

 

Ten (10) whole garments, long women's summer kimonos, no liners; the average size of total fabric to make one kimono is about 14 inches X 12 yards (35.56cm X 11m).


OUR PICTURES ARE A SAMPLE OF TYPES INCLUDED.


What is Asa? In the centuries before cotton was commonly used in Japan, asa was a major fabric used in pre-modern times; It is a fabric that used flax or hemp plants instead of cotton, a traditional fabric made in Japan for centuries up until the 1950s; Asa is usually hard and rough to the touch when woven to be used for utilitarian purposes such as coverings, screen mesh, curtains, etc.; We sometimes see (but rarely these days) work clothing or aprons in thicker rough asa, but these kimonos in this package were made originally as summer kimono (called Yukata) asa; Asa is stronger and lasts longer than cotton, it is ideal for summer wear because the fabric breathes and wicks moisture very well, keeping the body cool, even better than cotton; These asa yukata are softer than the utilitarian mesh asa from the same period. 


Condition:   Sold as Cutters because of some imperfections, such as holes(not large), stains, and aging; even so, some may be good enough for casual wear or costume purposes.

To see what one of our customers did (above) with Asa fabric she purchased from us on yokodana.com, please  click-touch HERE
---
More from this collection
110-ASA-10: Special Lot of 10 Asa-Hemp Pre-1960s Summer Kimonos