Clearance Sales
210-LADY-HAKAMA-PC: Vintage Japanese Woman's Hakama, by Garment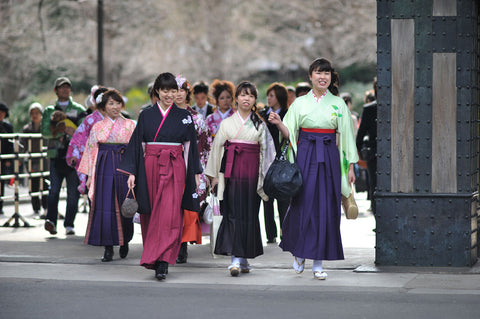 Vintage Japanese Woman's Mock-Silk Hakama 
Sold by Individual Garment
(Types: Split/Martial Arts & Full/Arts & Other Uses)
Catalog #: 210-LADY-HAKAMA-PC
List Price: US$45.00




Sale Price: US$35.00 per Garment


Plus Shipping

Description:
We are offering these woman's hakama sold by individual garments. They are wearable, used, and good quality vintage Japanese mock-silk (synthetic).
Background Cultural Information: 
In recent years in Japan,  young women have taken to wearing hakama in non-traditional ways (see pictures above), often worn with kimono for college graduation or other formal situations. We recently wrote about this new Japanese fashion trend in our previous blog.

Product Details:

Size: Standard Japanese Sizes from pre-1980s (USA Smaller women's sizes).


Types: full-skirt type, not split, arts uses.


Wear:

Waist board area is flexible (unlike men's hakama) as the women's  hakama is worn to just below the bust line; No obi/sash is needed, as straps are attached as part of the hakama (

See pink drawing below);


See also our various pictures on this page  for various ways that young women are wearing hakama these days; note particularly the use of vintage or retro boots/shoes, purses, and accessories;

Also, to see women's hakama as worn at recent summer's Tokyo Olympics, please visit our blog about this HERE.
Below: Woman's Non-Split Hakama - View from the front 
Colors: Various.


WHILE SUPPLIES LAST.

Questions?: Please send us a message HERE (please include product number). 
---
More from this collection
210-LADY-HAKAMA-PC: Vintage Japanese Woman's Hakama, by Garment