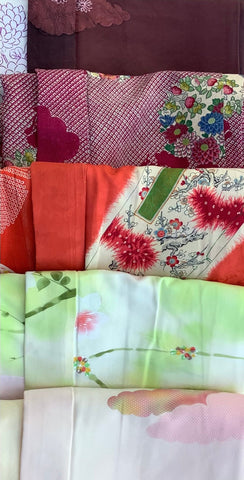 Lot of 5 Vintage Japanese Women's Haori 
(Silk Kimono Coats, Wearable)

Catalog#:  110-HAORI-5

US$95.00 Plus Shipping

(Version: Text updated February 24, 2023)

LOT: FIVE(5) VINTAGE HAORI BUNDLE:
We are selling a bundle of five (5) authentic vintage Japanese silk and silk-blend haori (kimono, cardigan style) as a lot of whole-garment cutters but some customers use them for casual vintage wear. Five (5) whole garments, vintage from the 1960s-1980s; the average size of total fabric to make one haori is about 14 inches X (average) 7 yards (35.56cm X avg. 6.4m), so, over 35 yards of outer silk, plus additional silk yardage for liners.
CONDITION: Sold as Cutters because of some minor imperfections, such as a few tiny holes (not large), minor stains, wrinkles, and aging; even so, most of our customers use this package for casual wear or costume purposes.
MOTIFS, PATTERNS & DESIGNS:
EACH LOT IS UNIQUE. Because our pictures are only samples, please keep in mind the following information about the haori that we include in this package:
Traditional motifs of our vintage kimonos/haori are in a wide variety of combinations, and include the following: Flowers, fans, butterflies, birds, Imperial items ( such as -- flower carts, Imperial procession items, banners, treasure mallets, and gift boxes); also, toys, origami, cranes, waves, streams, bamboo thickets; Kimono makers historically also include themes from woodblock prints and art of 1600 to 1800s Japan, including tsunami waves, mountains and country villas with streams, streams (often stylized in various fashions) and geometric designs; nature themes are predominant, so flowers, country scenes, etc. are common.
PICTURES: Our pictures here are of five of these haori folded and stacked; the first picture is all five, the other images are close-ups of the same haori(s); Also, our pictures are SAMPLE IMAGES, representative of what is in each package; each lot is unique, NOT pictures of what you'll receive.
---
More from this collection
110-HAORI-5: Special Lot of 5 Vintage Silk Japanese Haori (Kimono Coats)